How much time do you spend
removing silence

from your videos?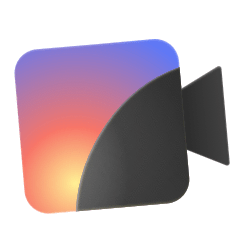 Recut can do that for you.
---
Recut is a Mac app that automatically edits your videos by cutting out silence.
Record your screen in Recut, or drop in a video from elsewhere.
Then export the cuts to your favorite editor to fine-tune.
Editing videos normally takes *forever*
After all that time spent planning and recording, you know you're in for a few more hours of fiddly editing.
If you're like many screencasters, YouTubers, and course creators I know, much of that editing is spent slicing and dicing the silent parts.
click ... split clip ... click ... split clip ... select the silence ... ripple delete
Over and over. Until you've got something like this...

Hundreds of tiny, fiddly, Hand-Crafted™ cuts.
Shortcuts and tricks don't cut it
You've tried all the strategies to make this faster...
leaving long, obvious pauses between takes – easier to find and edit out
using "markers" during recording to help find the "good takes" and eliminate the bad
learning all the keyboard shortcuts to speed up your workflow
These all help, and they help quite a bit! But even with these tricks up your sleeve, removing silence takes a lot of time.
It's still a manual slog.
What if the computer did it for you?
How about this workflow, instead?
Drag in your video or! use Recut to record your screen.
Then Recut finds the silence automatically...
...and cuts the video into clips for you.
Hit Export to send the clips to your favorite editor
(or save off an edited video)
Bye-bye silence 👋, hello free time.
Here's How It Works
1. You drag in a video
(Or use Recut to record your screen)
2. Recut finds and highlights the silence
Tweak the silence cutoff, the padding between clips, and other parameters.
Everything updates immediately.
Hit Play to hear how it sounds.
3. Export to your favorite editor
You can also export a plain video with the silence cut out.
Works with audio, too
Got a podcast to edit? Or maybe a long call you want to cut down to size.
Drag that file right into Recut :)
Export the timeline to edit in other apps
Your original recording is never modified — this is nondestructive editing.
Recut can export the cutlist to your favorite app, where you can do the final edits, audio adjustments, screen annotations, and whatever else you normally do.
You've probably invested a lot of hours learning your current set of tools. Recut won't make you throw them away.
Export to

ScreenFlow

DaVinci Resolve

Adobe Premiere

Final Cut Pro
Any apps that can import XML or EDL cut lists should work with Recut.
Or, export directly
You can also export an edited .mp4 video or .m4a audio file right from Recut.
It's a fresh copy, with silence removed, and leaves your original recording untouched.

I knew getrecut.com is awesome, but it blew my freakin mind anyway.
I used to say that 1 minute of video takes 1 hour to make.
Well I just made 11 minute video in ~30 minutes. Recording and everything.
Great work @dceddia 👏👏👏
5:40 AM · Mar 2, 2021

This is an unbelievably efficient way to record a video. I am thinking about what to say (keeping mum), then say it. Then Recut simply removes the pauses, creating a nice smooth video! This is how it looked during editing - the pink pauses were removed by Recut. 👏 @dceddia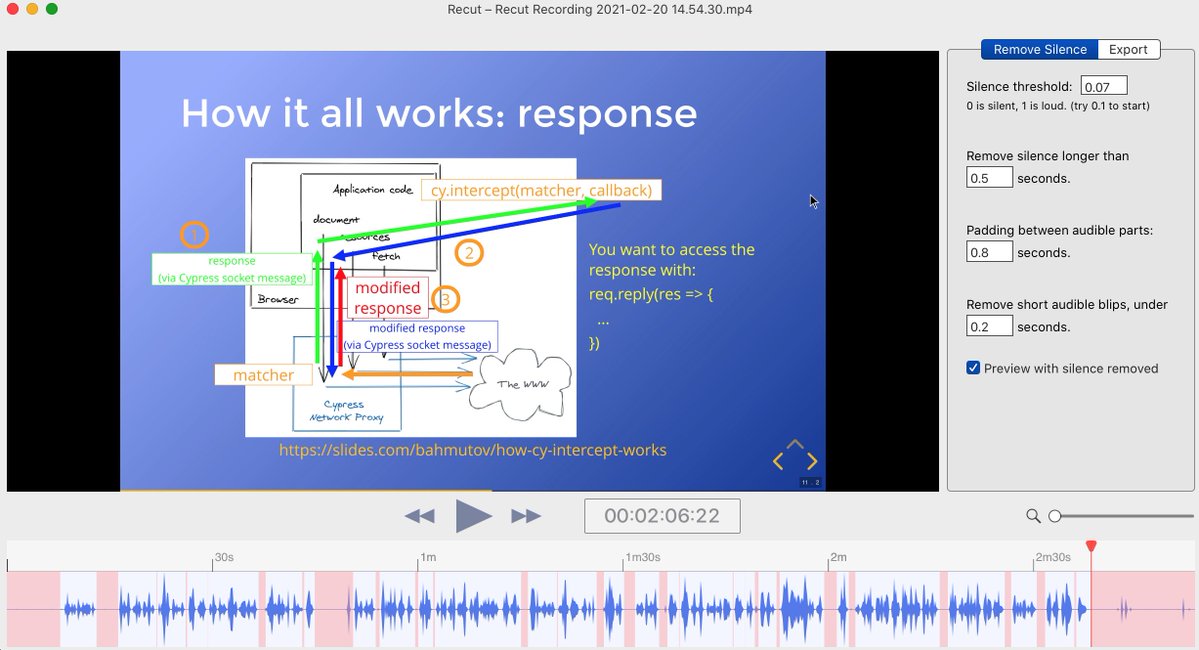 3:38 PM · Feb 20, 2021

Nick Kendall
@nick___kendall
Dang, just finished editing an 8 minute talking head video in about 20 minutes using Recut.. that would normally take me at least an hour... thanks so much @dceddia 🤩 @SanjeeSen I highly recommend!
7:11 PM · Mar 1, 2021
Need a screen recorder?
If you already have a recorder that makes .mp4 or .mov files, you're all set – drag 'em right into Recut!
But if you, like me, use ScreenFlow for your recordings, it's not as simple.
ScreenFlow records to a proprietary format that other apps can't read – so you have to export it first, and that's slowww.
So Recut comes with a built-in screen recorder.
Record your screen (plus audio) straight to a standard .mp4 file, and when you're done, the file is ready to edit immediately.
Never record the wrong screen again
As a screencaster, one of the things that kills me is having to re-record a video because I recorded the wrong screen...
...or my recorder decided to switch back to the Built-in System Microphone even though I definitely told it to use my Scarlett 2i2.
I wanted to fix this once and for all.
So Recut's screen recorder has intelligent presets.
With a preset chosen, Recut will select the right display and audio device, every time.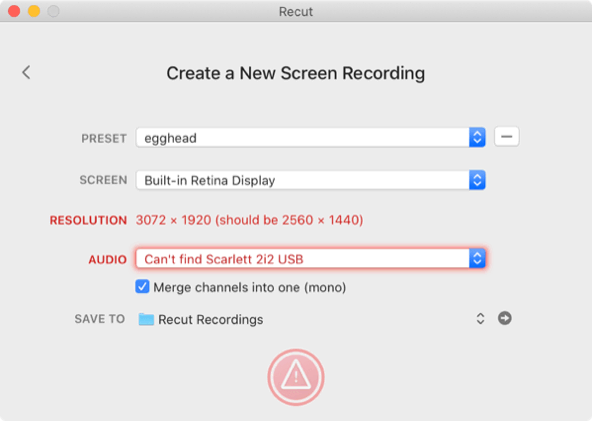 If you forget to plug something in, Recut will warn you, instead of using the wrong device.
The screen resolution is part of the preset, too. So if you like to record full-screen and use a tool like SwitchResX or RDM to set your resolution, Recut will warn if you forget to set it up.
Buy Recut
Because honestly who has time for trimming silence by hand.
FAQ
What's the refund policy?
I offer a 30-day money back guarantee. If Recut doesn't suit your needs, just send an email to dave@getrecut.com and I'll send you a full refund.
What operating systems does Recut support?
Recut is a native app built for the Mac, and it runs on macOS 10.13 High Sierra up through the latest Big Sur.
It also natively supports the new Apple Silicon M1 chips, and I've heard from testers that the export is very fast ⚡
Recut doesn't run on Windows or Linux or iOS or Android – sorry!
Is it an Electron app?
Nope, Recut is a native app built with Swift, and it's pretty snappy. Give it a try!
What video formats can Recut open?
Recut can open anything that QuickTime can play. That's most MP4 and MOV files, some AVI files, and a whole bunch of audio formats.
It can't open...
raw ScreenFlow recordings (but you can export those to MP4)
webm
mkv
other things that won't open in QuickTime 😉
Can I edit my podcast (or other audio) with Recut?
Yes! Recut can open any of the audio formats that QuickTime can handle.
You can export the cut list, or export the edited audio as an .m4a file. (only M4A is supported right now)
What formats can Recut export to?
Recut exports XML and EDL files for use in apps like Adobe Premiere and DaVinci Resolve, and FCPXML for Final Cut Pro. These contain the cut list to tell the apps where to create clips.
It can also create a ScreenFlow project with all of the cuts pre-applied.
If you just want the video or audio, export an MP4 or M4A with the silence stripped out.
It doesn't yet support transcoding to other formats/sizes/qualities.
Can Recut handle multiple files?
Multi-track + multi-cam support are on the roadmap, but right now it only supports a single video or audio file, and works on one file at a time.
If your workflow involves multiple cameras, or recording video + audio separately, you'd need to assemble the composition and merge it down to a single file before Recut could work with it.
Is Recut a full-featured video editor?
Recut is great at finding and removing silence, but it's a very focused tool.
Recut does support exporting the timeline of edits to other apps for fine tuning, though, so you can start with Recut and finish with your favorite tool.
Will Recut fit my workflow?
Everyone has a different way of working, and it's hard to know if a piece of software will fit until you try it out.
The best way to find out is to download the trial. You can get a feel for how it works with your videos, and take the screen recorder for a spin.
Does Recut have [awesome feature xyz]?
I'm gonna be totally honest with you: Recut doesn't have a lot of features. Not yet, anyway ;)
Here are some things that Recut can't do right now:
batch editing
multi-track editing
transcription
remove "ums" and "ahs"
record only a portion of the screen
record your webcam along with the screen
fancy video overlays...
or really, any kind of video overlays
...plenty more
As a solo developer with limited time, I wanted to prioritize getting something useful into people's hands now, rather than striving for something perfect in the far future.
If Recut doesn't fit your needs yet, keep checking back! It'll keep getting better.
Who made this?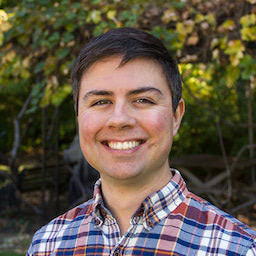 Hi! 👋 I'm Dave Ceddia. I've been a professional developer for over 12 years, and spent the last 6 or so as a web developer, primarily with JavaScript and React.
I created a course and wrote a book on React, along with screencasts and courses at egghead.io.
Making all those hours of screencasts taught me a few things. One thing I learned was I really don't like editing videos.
I created Recut to make the editing process easier for myself and other creators.
When editing is fast, you can publish more often. The tools don't get in your way.
Give Recut a try. See how much it can speed up your editing!
Copyright © 2021 Tiny Wins LLC