Recut has completely changed the editing game for me! I'm still in the early days of Youtube which means I'm not great at filming everything in one take and I pause plenty of times.
It previously took me about one hour to cut down the raw footage into something usable (i.e. my A roll cut) and it was an incredibly tedious process having to go through almost an hour of footage just to cut out things like pauses. Recut does this with a click of a button and the best part is, I can import it into Final Cut Pro and bring back any of the silences should I need to, meaning my A roll cut time now is about 10 minutes and it's seamless.
This has allowed me to focus on the more creative aspects of editing. This is the first piece of software I've invested in for my youtube channel, and I couldn't recommend it more to anyone who is involved in video editing.

Akta
Thank you a MILLION for writing Recut. This is a tool that, after using it once, I would have paid $100 just for that one time. Thank you so much for developing and doing it well.
This tool REVOLUTIONIZES how I'm able to not only edit videos, but conceive and record them since it frees me up to not worry about dead time or bad takes. It paid for itself after one use. It's stupid easy to use and is enabling me to produce more content, faster, and easier.

David Das
Just edited a video using Recut. I had almost 2 hours of a screencast to edit. Recut saved me 3-4 hours of editing. Absolutely incredible. I was afraid I might lose some important footage, but the default audio threshold is good for picking up keypresses. There were very rare instances where I missed mouse work, but I was about to adjust the clips to pick those back up.
Bravo, Dave. This is powerful stuff.

Devon Campbell
I absolutely LOVE Recut! I've been creating Youtube videos for over a year and half of my time editing is spent doing the tedious things like editing out the silence / breaths between words. This was easily the best $100 I've ever spent.

Kelsey Rodriguez
Amazing software! Seriously. Just incredible. It has already saved me HOURS of editing — and I just started as a YouTuber! It's making the journey so much easier. Thank you!!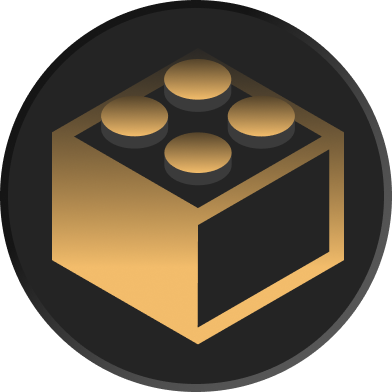 Phillip Alan, Bricked to Perfection

f me this is incredible
5:32 PM · Feb 23, 2021

Hannah Trigwell
@HannahTrigwell
Holy shit this is epic
7:40 AM · Feb 24, 2021

Just used this for the first time - incredible !
3:43 PM · Mar 4, 2021

Wow, this is precisely what I have wanted in my video production tool belt for years.
8:27 AM · Mar 1, 2021

Beyond being great tool for editing out silence, this is also very slick for screen recording! #ScreenCapture #YouTube #MiseEnScène
2:30 PM · Feb 26, 2021

I bought @dceddia Recut app. If you do any kind of screencast/tutorial etc this is a tool you want :)
9:47 AM · Mar 25, 2021

I bought this in a heartbeat. It's going to save so much time editing screencasts.
Such a smart, simple app.
3:59 PM · Feb 23, 2021

Andrew Culver
@andrewculver
Wow, just took this for a spin on some screencast recordings I had lying around and it seems to me this would make them way more enjoyable to watch! Great job, @dceddia!
11:05 AM · Feb 23, 2021

This is an unbelievably efficient way to record a video. I am thinking about what to say (keeping mum), then say it. Then Recut simply removes the pauses, creating a nice smooth video! This is how it looked during editing - the pink pauses were removed by Recut. 👏 @dceddia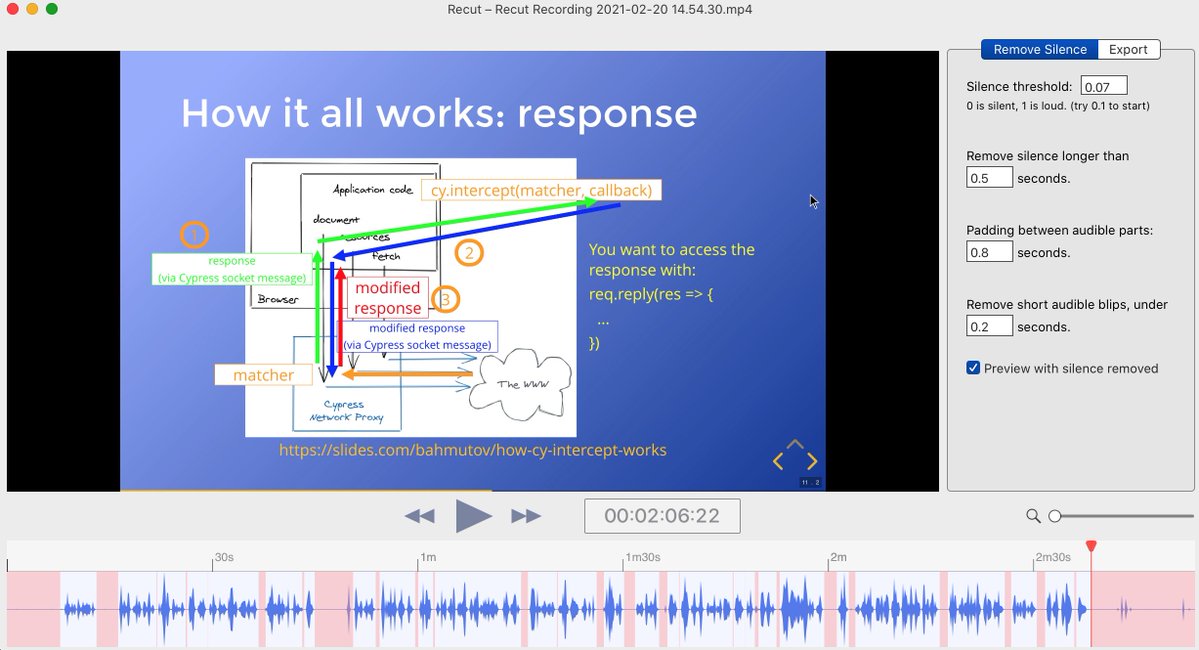 3:38 PM · Feb 20, 2021

Bobby Bouwmann
@bobbybouwmann
THIS! THIS!
Awesome product and huge time safer! This is an instant purchase for any person that records and edit videos
1:58 AM · Feb 24, 2021

Brennan Dunn
@brennandunn
Fastest purchase ever
What a great example of building a product that solves a painful problem.
11:13 AM · Feb 23, 2021

I knew getrecut.com is awesome, but it blew my freakin mind anyway.
I used to say that 1 minute of video takes 1 hour to make.
Well I just made 11 minute video in ~30 minutes. Recording and everything.
Great work @dceddia 👏👏👏
5:40 AM · Mar 2, 2021

I was lucky enough to beta test this when @dceddia first mentioned the idea.
Today, I purchased a copy and man...it saves so much time when editing videos! If you record videos at all, I highly recommend checking out Recut
5:11 PM · Feb 27, 2021

This is gonna save sooo much time!!
8:42 PM · Feb 23, 2021

Check out this neat new little tool for video makers.
It's especially handy if you make video courses and have TONS of lessons to edit.
11:01 AM · Feb 23, 2021

Nick Kendall
@nick___kendall
Dang, just finished editing an 8 minute talking head video in about 20 minutes using Recut.. that would normally take me at least an hour... thanks so much @dceddia 🤩 @SanjeeSen I highly recommend!
7:11 PM · Mar 1, 2021

Tom McFarlin
@tommcfarlin
where has this been all my professional life 😍
9:54 PM · Feb 23, 2021

Editing audio in ScreenFlow is by far the most time consuming part of my video creation process, I'm really excited that Recut will make that part of it easier!
12:54 PM · Feb 23, 2021