Remove Silence with DaVinci Resolve and Recut
Manually deleting silence from videos takes forever. It's probably one of the most time consuming and tedious parts of video editing. Same goes for editing screencasts or podcasts.
The process looks something like...
Open the file in Resolve
Select each chunk of silence.
Ripple delete it.
Rinse and repeat, maybe hundreds of times.
OR use Recut and you're done.
Fiddling with the gaps to get the audio to sound right is especially annoying! It's a pain to get them juuust right so it sounds natural.
It seems like a thing that DaVinci Resolve or some other app should be able to do!
Well, it turns out DaVinci Resolve doesn't have a built-in tool for this... so we created an app to trim the silence for you.
Recut is a "pre-editor" that can remove the silence and export a cut list that you can import straight into DaVinci Resolve.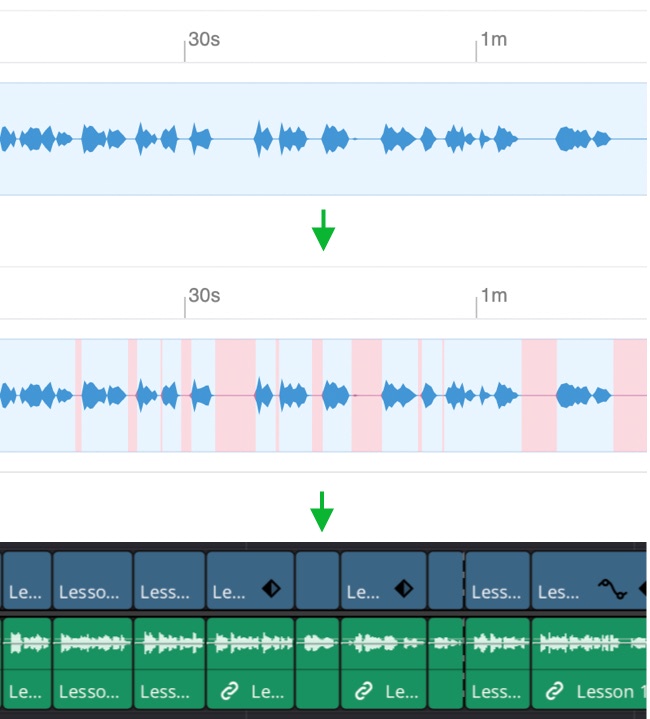 Remove Silence from Videos Automatically
Here's how it works:
Drag your video or audio into Recut.
Recut automatically finds the silence.
Export the cut list in XML format.
Import the XML into DaVinci Resolve
Check out this quick demo, where I record a short clip, edit in Recut, and import the cuts into Resolve:
Works With Other Editors Too
If you use Resolve — or any pro editor for that matter! — you probably remember the learning curve. Or maybe you're still climbing it.
Recut is intentionally designed to save you time and get out of the way, and it works with your existing editor so you don't have to learn a whole new one.
It previously took me about an hour to cut down the raw footage... incredibly tedious to cut out things like pauses. Recut does this with a click of a button and my A roll cut time now is about 10 minutes and it's seamless.

Akta
In addition to Resolve, Recut also works well with editors like ScreenFlow, Final Cut Pro, and Adobe Premiere.
There are minimal knobs to tweak, and it pretty much just does its thing, quietly saving you hours of your life :)
You can spend more time creating content and growing your audience (or heck, hanging out with your family) and less time doing editing work that the computer can do for you.
Download the fully functional free Recut trial here (no email required or anything) and see how it fits with your workflow!