Reduce Your Video Transcription Bill
Got some audio or video to transcribe? Maybe you already use a service like Otter.ai or Descript to automatically transcribe your videos.
The trouble with transcription services is they usually charge you based on the length of the recording – including the silent parts!
If you were gonna cut out that silence anyway, it seems a bit of a waste!
You can save on transcription time (and save some money!) by removing the silence before you transcribe.
Doing this manually is a pain though. It looks something like:
Open the video in your editor – Final Cut, Premiere, Resolve, ScreenFlow, etc.
Select each chunk of silence.
Ripple delete it.
Rinse and repeat, maybe hundreds of times.
Export the video.
That'll probably take hours though, and your time is worth more than that!
Remove Silence from Videos Automatically
Instead, you can pass it through this little app called Recut.
Drag your video or audio into Recut.
Recut automatically finds the silence.
Export a new video/audio file, with the silence automatically removed.
Then take that shorter video and upload it for transcription 😎
I have a bunch of random voice notes from iOS voice memos and they have a lot of silence in them because I've just let it run.

With Recut I could quickly throw those in and trim the audio, and that way the silence isn't eating into the transcription time on Descript.
Recut is a Mac app that automatically finds and removes silence from your videos. Check out this quick demo:
In addition to exporting video/audio directly, Recut can also export the cut list.
This is awesome if you normally edit in something like ScreenFlow, Final Cut, Premiere, or DaVinci Resolve.
Import the premade timeline of cuts, with the silence already removed, apply your final edits, and you're all done.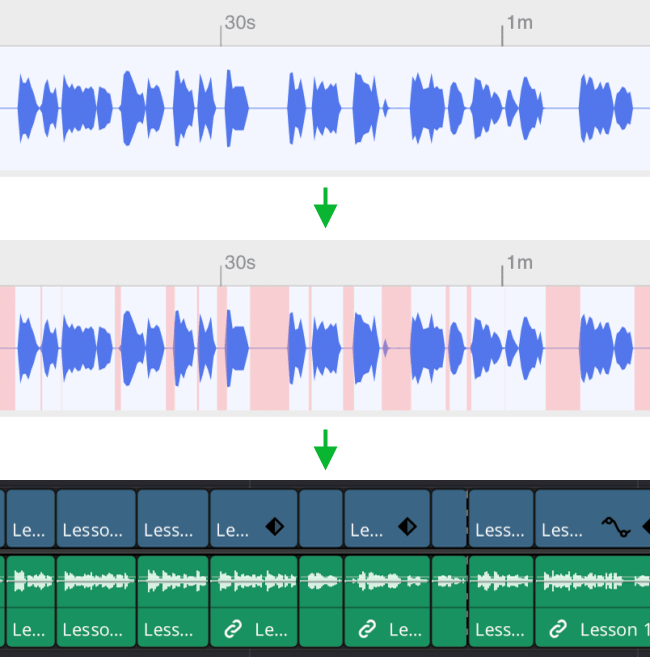 Download a free trial of Recut here! Take it for a spin with your own recordings, and see how much time (and dollars) you can shave off your transcription bill.